Shivalik Tales is a tribute to extraordinary people named here as well as all those unsung heroes who worked selflessly to save mother earth. These leading lights have always inspired the person behind Shivalik Tales.
Jim Corbett
Indira Gandhi
Billy Arjan Singh
Sunderlal Bahuguna
Dr. Kailash Sankhla
Dr Salim Ali
Chandi Prasad Bhatt

Gaura Devi

Dr. Ramesh Bedi

Naresh Bedi

Rajesh Bedi

Bittu Sahgal
Jane Goddal
Dian Fossey
Hugo Van Lawick
Romulus Whitaker
Mahaout Subedar Ali
Dr. Anil Joshi
"The world is shaped by two things-stories told and the memories they leave behind." ~ Vera Nazarian
Are you a parent worried about your kid spending most of their waking time in front of a screen? Do you wonder if it is possible to free them of this online confinement and make them learn the good old traditional way? In times like these where it has become almost impossible to separate your child from being glued to the screens, we have a perfect getaway for your child's creative thinking, providing a much-needed break from the screens and teach them in the best way known to mankind – Storytelling. We at Shivalik Tales are here to provide live interactive storytelling sessions where kids gain real knowledge without even realising. After all, "Who doesn't like a good story?"
Manish grew up surrounded by forests and wildlife. During his early years spent in the Doon valley and the Terai region of Kumaon, Manish discovered his love for nature. While still at school, Manish started working with several eminent environmentalists as a conservation activist. During his graduation days in Rishikesh, Manish was known as a "WANDERER OF THE GHATS" for he would spend chilly winter nights on the river bank, listening to the stories narrated by Sadhus (holy men) from all across India. Manish always aspired to become a professional wildlife photographer and spend his life, close to nature as long as possible. He had taken up trekking at a very early age.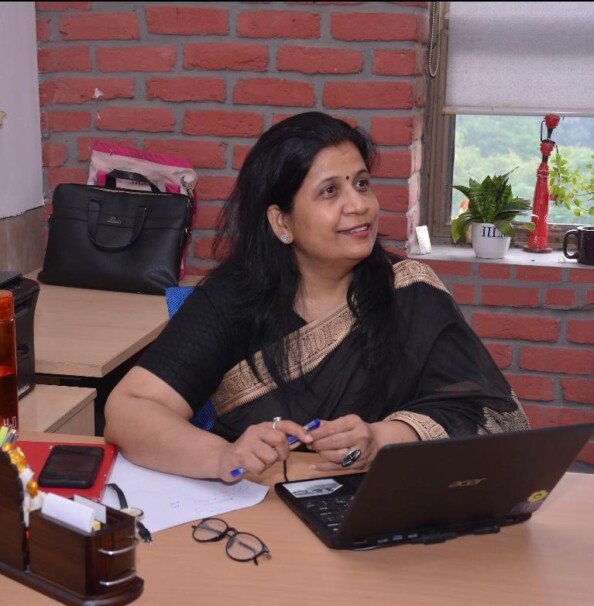 Dr. Sonika Sharma, Co Founder
Dr. Sonika Sharma has an academic experience of 24 years. Her subject domains are organizational behavior, human resource management and psychology. She is a certified ISTD trainer and a certified life coach. Dr. Sonika Sharma has authored several books on human resource management. Dr. Sonika also conducts counseling sessions for school children. She is also an NLP practitioner. A person gifted with the skill of situation handling and crisis management, Dr. Sonika Sharma grew up in central India and has spent her schooling years in close proximity to Bandhavgarh National Park. She is a natural, keen campaigner for saving forests and environment who understands the fine print of challenges faced by the tribal people from demands of development.
Mr. Pankaj Tyagi, Mentor – Strategy & Integration
Mr. Pankaj Tyagi comes from a diverse and rich background of financial services, insurance, real estate and home stays in Doon valley. He is passionate about setting and challenging his own benchmarks in his hospitality, home stays and authentic honey businesses. His new D to C start up in premium honey domain in year 2019 has addressed a niche segment of consumers who value purity. Sustaining responsible bee keeping and harvesting authentic honey is Mr. Pankaj Tyagi's silent yet valuable contribution to the cause of environmental conservation. Being an avid motor bike rider, he has undertaken trips like Dehradun – Rann of Katch, Indo Tibetan Border Police Awareness Trail, New Delhi – Neeti Pass, the latest being a solo trip from Bangalore to Dehradun, across ten states at the age of 56 in 2017. He is a well travelled person and has a fascinating study of cross cultural diversity spanning continents. Mr. Pankaj Tyagi's other passions are reading fiction in both English & Hindi and watching Western and War movies. He believes firmly in Karma. Spirituality is his way of living.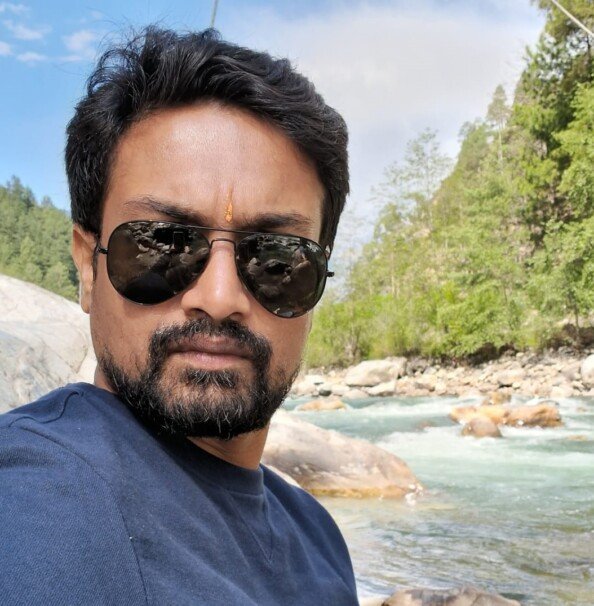 Mr. Khilesh Kumar, Head, Communication & IT
Khilesh Kumar is the visionary Communications and IT Head at The Shivalik Tales, an awe inspiring storytelling initiative focused on environmental conservation. As an alumnus of the prestigious University of Delhi, Khilesh's education in Environmental Studies ignited his passion for protecting our environment. Recognizing the power of storytelling to drive change, he founded his own digital marketing firm, blending his expertise in marketing with a fervent advocacy for environmentally beneficial solutions. At The Shivalik Tales, Khilesh combines his communications acumen and marketing prowess to orchestrate captivating storytelling sessions that transport audiences into an enchanting world while promoting environmental consciousness. Beyond storytelling, Khilesh actively collaborates with environmental organizations, experts, and influencers to build a community of changemakers dedicated to preserving our planet. With his exceptional vision and relentless dedication, Khilesh Kumar shines light on the path towards a greener, more conscious world, inspiring others to join the journey towards a sustainable future.
Shivalik Tales will not stop fighting for a greener, healthier world. Our goal is to save the planet for our children. Help us to win.
Journey of Shivalik Tales
Knowledge and love for nature can change the course of our future and Shivalilk Tales is doing it's bit. 
Sessions conducted
These sessions with children have been an unforgatable experience for them
Attendees
More than 500 children have reaped the benfits of story telling session by Manish
Happy Parents
Parents have appreciated and praised Manish for his efforts
Latest Blogs
There is always something going on in the world. We provide only verified information. Stay informed about latest events and changes.
What people say about Shivalik Tales?
Mr. Manish Sharma's story telling sessions for children are a real treat to the ears and inspiring for the young generation!!! His unique style of storytelling with emotionally charged tinge of excitement makes every child look forward for the next session!!! I wish him all the sucess for his future ventures!!!
I was a regular participant in the story telling sessions of Manish uncle. He is very nice in the way he taught us how to tell stories, I feel like I am a part of the story. I liked it so much that I waited for this session every day. I hope we continue it soon.
"Manish has been instrumental in helping getting the society kids who ranged from tiny tots of 4 to some who were 19 together for wonderful evenings in the open backdrop of the community garden. They spent many evenings enthralled by both the themes and the way the stories were narrated. A fascinating space for them to spend time engaging not just listening but reflection on it later on and also a space for them to come up and be little story tellers, artists to bring to life on paper and also guest speakers who came in and talked about something that always was a value add, so an exciting package stimulating so many different areas. It was a great source of meaningful engagement for kids and they came away with insights and specially in becoming environmental warriors which was an added benefit. May he spin more tales and impact more lives"
Mr Manish Sharma is a passionate story teller. His enthusiasm for his story is infectious. He connects with his audience, usually children, at their level and fires their imagination with his very visual descriptions. It's a pleasure to hear him weave his tales. I wish him the very best for this new endeavour that he is undertaking.
Manish tells stories of magical lands (bugyals),animals, Jim Corbett, and happy endings. The characters are usually real and the morals are lessons on life. He is a great story teller who encourages kids to engage in literary activities as well. I hope he keeps telling those stories for many years to come. Kids and kids in us will be listening closely. I would recommend Manish not just for storytelling but also for interest into literary activities that he geneartes in kids. My best wishes to Manish for his magical journey of story telling!
My 9 year old grand daughter has attended some of the story telling sessions held in the society… she was very happy that something like this was being held close to her home and gave her an opportunity to use her imagination and thinking… children feel they are part of the story itself which gives them a chance to be in a world that they like… that sums up the impact of the sessions taken by Manish…
I appreciate your storytelling sessions for kids. Shabad feels amazed and never wants to miss them. I must say the story telling session yesterday was so realistic that kiddo came home with chills running down his spine that the tiger might attack him from somewhere.
Become One Of Our Growing Family Of Volunteers To Protect the Environment.
Help us save the air we breathe, the water we drink and the places we live in by joining our team. Enroll today and become a part of Shivalik Tales.