Adverse effects of Technology on Children
According to research, the average 8- to 10-year-old spends over 8 hours per day with a variety of media, while older children and teenagers spend approximately 11 hours per day with media. That time adds up, and young people are spending more time on devices than in school.
Technology, according to teachers, parents, and children, can have a direct impact on attention spans. Technology moves so fast, and instant responses and gratification have an impact on young children and teenagers' attention spans.
Younger children are struggling with face-to-face social connections as they spend more time on electronics. Many people appear to prefer texting or talking on social media than talking to each other in person.
Health related issues like obesity, weak eyesight and heart diseases are on the rise in children and teenagers as they don't spend as much time running and playing outside.
Children have no connection with nature and this can lead to pseudo development that is further detrimental for them in many ways. 
What Shivalik Tales Offers to children?
Live and interactive story telling sessions where little children feel one with the mother nature, forests, mountains, wild animals and birds
An opportunity to learn about the importance of preserving our precious natural resources like trees, water and all animals
A unique opportunity for kids to hear real stories and events from a person who has lived in jungles and seen the natural habitat of wild animals from very close quarters
Reciting stories from someone's lifes transposes them to their culture, traditions and helps them understand everything better.
Instead of witnessing a narrative on a visual media, a youngster might envision the characters, places, plot, and so on by listening to it. This boosts creativity, allowing them to be more inventive and receptive to new ideas and ways of thinking.
An interactive session of storytelling can really help in sharpening the memory of youngsters. It is a great tool and has been used for ages and we at Shivalik tales are revisiting it with a twist.
Are you a parent worried about your kid spending most of their waking time in front of a screen? Do you wonder if it is possible to free them of this online confinement and make them learn the good old traditional way?
In times like these where it has become almost impossible to separate your child from being glued to the screens, we have a perfect getaway for your child's creative thinking, providing a much-needed break from the screens and teach them in the best way known to mankind – Storytelling. We at Shivalik Tales are here to provide live interactive storytelling sessions where kids gain real knowledge without even realising. After all, "Who doesn't like a good story?"
"Tell me the facts and I'll learn. Tell me the truth and I'll believe. But tell me a story and it will live in heart forever." – Native American Proverb
For generations, storytelling has been one of the most efficient mediums of sharing knowledge, information and communication. Do you remember the times when our grandparents recited stories for us, taking us to those wondrous lands? Wouldn't it be wonderful if your child could have that similar experience?
Manish Sharma, a nature lover, environment activist and wild life enthusiast, feels duty bound to pass on the message and share his learnings and varied experiences with the next generation. With a background in theatre, he can bring stories to life and connect to kids easily. The kids will learn such valuable life lessons, which no book or online course can ever teach.
"There's always room for a story that can transport people to another place." –J.K. Rowling
By enrolling your kids for these live storytelling sessions, you will be helping your kids hop on the train to the world of imagination and infinite valuable learning away from the online confinement that has stolen their wings to fly.
Stories that kids love at Shivalik Tales
A basket of stories is here as a sample for little children. They have a choice to select a story for their session. Few of the stories mentioned here are all time favorite and hit amongst the kids.
Duck and her four ducklings in Dudhwa National Park
A Tigress and her two little naughty cubs.
A large herd of elephants in an Assam Tea Estate
When an enraged Himalayan bear chased me
Mother Rhino and her baby saved by two hoolock Gibbons
Man who survived a Tiger attack
A clever Leopard in my garden
Mahaseer Fish and two wicked hunters
A flock of migratory birds from Siberia
Two rouge elephants of Rishikesh
Tigress raising a litter of four little cubs
And many many more such stories…………..
This is how each and every session at Shivalik Tales is conducted under the guidance of Manish Sharma.
These story sessions are conducted as a live and direct interaction between the narrator and the audience. The sessions are conducted in a manner that is very informal, easy, and communicative for both the narrator and the listeners. Here the audience can connect immediately with the tale being narrated and eventually feel like a participant physically. There are no gadgets, devices, or screens used during the sessions which give them the all-important live and human element to the narration and children find it different and captivating. Kids don't forget the smallest of details, told as a part of the story, and remember them for a long time. Few minutes into the session and young children begin taking themselves as a character in the story.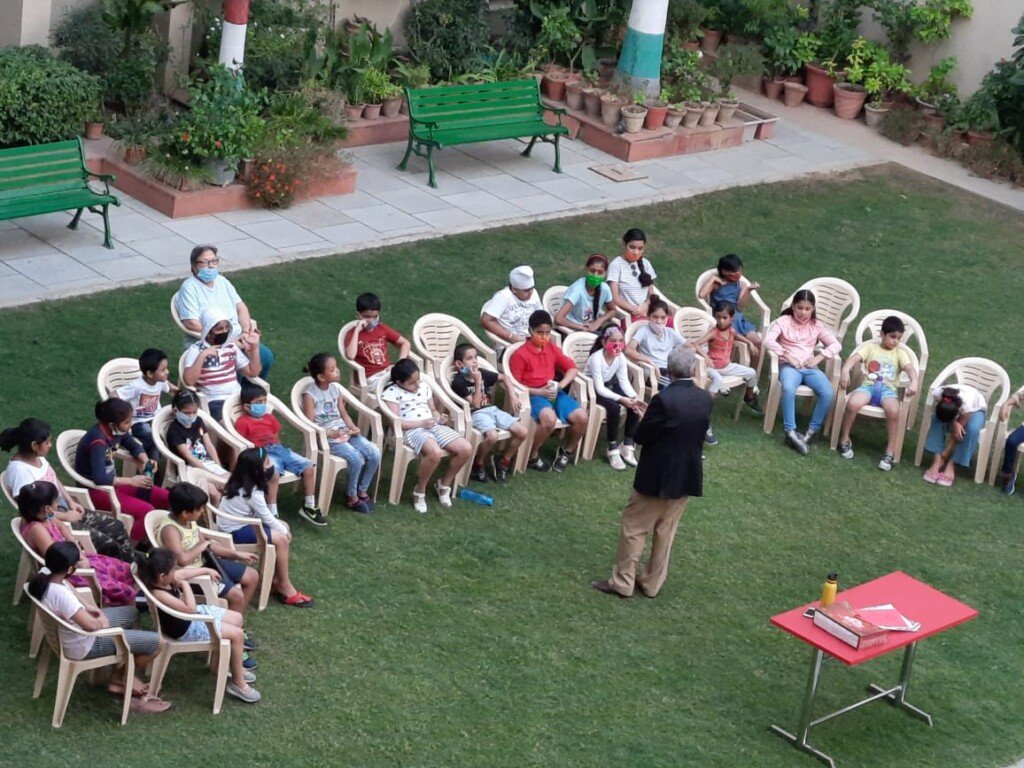 Take Aways For The Children
Shivalik Tales offers live and interactive sessions that boost creativity, allowing your children to be more inventive and receptive to ideas that will help shape their future holistically
Experience of Shivalik Tales so far has been that while a session is in progress, many kids begin making their own additions to the tale and want to take the stage. This practice removes the stage fear at a very early age.
Children feel free to open up and share their own learning and experiences with the narrator who engages with them at their own level.
Holistic learning and free thinking is what one experiences in these sessions conducted by Manish Sharma. 
Shivalik Tales Sessions Are Best For
Shivalik Tales sessions are for children aged between four to fourteen years or those who are interested in actual stories on wildlife. This age group is the most receptive and willing to learn from delightful stories. Young minds are at their imaginative best and they learn quickly when communicated interestingly.
USP of Shivalik Tales Sessions
At Shivalik Tales sessions, the real stars are nature with all its elements, animals, birds, and little children. The narrator acts only as a link connecting these wonderful creations. These tales are about actual events and happenings which took place in various parts of our country and yet not presented to the young audience in a thrilling manner like this before.
Journey of shivalik tales
Knowledge and love for nature can change the course of our future and Shivalilk Tales is doing it's bit. 
Sessions conducted
These sessions with children have been an unforgatable experience for them
Attendees
More than 500 children have reaped the benfits of story telling session by Manish
Happy Parents
Parents have appreciated and praised Manish for his efforts
Become One Of Our Growing Family Of Volunteers To Protect the Environment.